Saturday, December 21, 2002
Christmas cake decorating today. Only one year have I been responsible for the cake's entire journey from brown sugar, dried grapes and cherries to decorated table centre-piece. However, we're always permitted involvement in the decorating stage. After our trip through China, Mongolia and Russia, it seemed only fitting that the cake should be given a communist theme this year. Matt, Rhys, Rhian and I created a cake based around that well known emblem of the 'Christmas Cracker and Sickle'.
(0) comments
Thursday, December 12, 2002
Back home in Swansea. Have resorted to normal activities as attending Rugby matches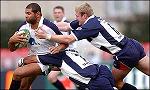 , visiting grandparents, and climbing amongst the foliage of garden shrubs while trailing meters of outdoor Christmas lights.
Missing out on the office party culture again this year to my continuing disappointment. Have only attended two such parties in my working life ('98 and '99) and one of those was held in January to reduce costs.
Have annual uni reunion party to attend on Saturday, only the second one I've attended since graduating. Am looking forward to meeting up with some old faces and am interested to see how their partying behaviour has changed now that thier mouths have been stuffed with gold.
Also need to fit in a day trip to Amsterdam tomorrow or early next week to locate some of my scattered possessions. Will be a pain in the arse as there are no no-frills airlines flying there from Cardiff or Bristol. We had some snow today, but it didn't last long and was too wet for it to stick.
(0) comments
Sunday, December 08, 2002
Moscow pics online too.

(0) comments
Friday, December 06, 2002
Pretty much all photos up apart from the Moscow ones. I'll revisit them with witty captions when I feel witty. Have changed the settings on the blog back to GMT.. seems to be a global setting thought so I guess any postings in China may have a funny time / date.

(0) comments
Thursday, December 05, 2002
(0) comments
Wednesday, December 04, 2002
Back in UK. Train from Reading to Swansea felt like two stops on the Tube. Never did make it back to Shanghai, although there may be some more travelling VERY soon... watch this space. Busy sorting my 200+ photos from the last 2 weeks of my trip. Decided I won't write too much text as the old adage of 'you had to be there' rings very much true. Who else wants to hear about Matt's penguin dancing, Banya immunity, bad French accents, misuse of the word 'diorama', a diorama of Swedish swear words, three days of relentless 'that's a large sausage' - 'Terry and June' style jokes?

(0) comments
Tuesday, December 03, 2002
Been in Moscow for a few days. Absolutely freezing. Lots to see and do. Much time spent trying to get Russians to smile. Geraint has left to get his flight back to the UK.

(0) comments