Thursday, December 12, 2002
Back home in Swansea. Have resorted to normal activities as attending Rugby matches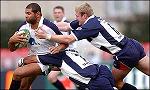 , visiting grandparents, and climbing amongst the foliage of garden shrubs while trailing meters of outdoor Christmas lights.
Missing out on the office party culture again this year to my continuing disappointment. Have only attended two such parties in my working life ('98 and '99) and one of those was held in January to reduce costs.
Have annual uni reunion party to attend on Saturday, only the second one I've attended since graduating. Am looking forward to meeting up with some old faces and am interested to see how their partying behaviour has changed now that thier mouths have been stuffed with gold.
Also need to fit in a day trip to Amsterdam tomorrow or early next week to locate some of my scattered possessions. Will be a pain in the arse as there are no no-frills airlines flying there from Cardiff or Bristol. We had some snow today, but it didn't last long and was too wet for it to stick.