Thursday, July 31, 2003
(0) comments
Monday, July 21, 2003
(0) comments
Monday, July 14, 2003
Went up to
Newcastle
for my
sister's
graduation on the weekend.
Drove back yesterday in a small car, no air-con on the hottest day of the year.
One to add to my compendium of low resource games for small groups*: 'name the advertising slogan'... has allot of mileage, is pretty simple to participate in.
Have to be careful you avoid local companies unless all players are from the same ITV region.
Anyone know the slogan for Oldham batteries?
*Basically games suited for long journeys, or when you have run out of things to say to each other. Others already in the compendium include such gems as 'Name your favorite dog (this can be a breed or a particular dog you have known).
(0) comments
Tuesday, July 08, 2003
Managed to snap a couple of pics of Joburg before I left. Was the only day with clouds in the sky.
[ A ]
[ B ]
(0) comments
Monday, July 07, 2003
Back in Cardiff b.t.w. Left Jo-burg 11pm on Sat and got back here Sunday afternoon. Spent the last day in South Africa shopping for gifts. Visited an art / craft market about 50km away from Jo-burg and bought many small animals made of wood, stone etc. Threw them into my case on top of all the clothes, as a result most are now missing legs, horns, trunks or ears. Did a small amount of haggling for the goods I purchased, but lack of research and impatience to finish any shopping experience as soon as possible meant that I was an embarrassment to the discipline of battering. You know you've just been ripped off when the exchange between you and the seller ends with the seller saying 'Thank you so much sir, you have just made my day'. I got that a couple of times.

At the end of the day I didn't pay any more for the stuff I bought than I would have if I had bought the same from a posh 'African culture' shop in the airport, and at least the money was going to the right people.

(0) comments
Just bought a water filter jug from an Argos-style catalogue store called 'Index'. Was difficult to find what I was looking for as their catalogues do not have an index!! I shit you not.

(0) comments
Thursday, July 03, 2003
Enjoyed driving on the weekend. Once you are away from the endless traffic lights ('robots' as they are called here) in the city, and the highways, then things become far more interesting.
Etiquette for driving along a single carriageway road dictates that you move over and drive half in the emergency lane when someone wishes to overtake you (therefore allowing them to overtake even when there is oncoming traffic). When they have overtaken they will flash their hazard warning lights at you a couple of times to say 'thank you'. You should then flash your headlights back at them to say 'you're welcome'. I appreciate such small gestures on a long lonely drive.

(0) comments
Wednesday, July 02, 2003
Flamingo building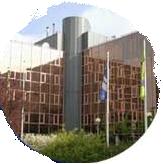 (0) comments
Leaving here Sat afternoon (back in Cardiff mid-day Sunday)

(0) comments
Tuesday, July 01, 2003
(0) comments